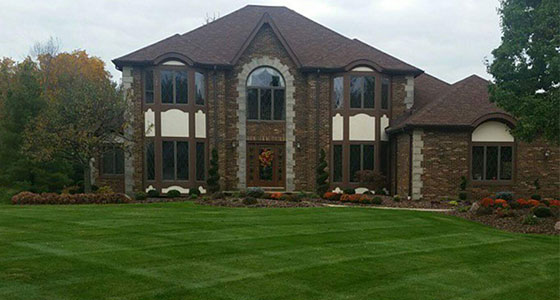 Landscape Design
Modern landscaping can be incredibly complex. From installing an automated sprinkler system to deciding where certain kinds of plants will thrive, planning will always net the best results. Without having years of experience, trying to do these things on your own can be very difficult. If you want help from professional landscaping experts who have been creating beautiful spaces for many years in the Akron area, call ASE Outdoor Solutions today.
From Planning to Planting
When you contact us about your landscaping needs, we'll begin the process by discussing what you want in your yard. After we have a clear idea of what you want, we'll perform a thorough inspection of the area in order to ensure that we can make your dreams a reality. Then, we will begin planning. During this stage, we'll be checking in with you regularly, incorporating your feedback, and offering some ideas.
Once you're happy with your landscape design, our team will begin to bring the project to life. Our team works quickly but never rushes, which means that you won't have to deal with extended periods of time where your lawn doesn't look good, nor will you have to deal with the results of sloppy work.
Contact us today for all of your landscaping needs!
---
At ASE Outdoor Solutions, we take pride in creating attractive and functional spaces for our customers through landscape design. We tailor our approach to your unique vision and strive to design the perfect landscape to fit your lifestyle and needs. Our ultimate goal is to give you a useful outdoor living space that not only enhances the curb appeal of your home but also your outdoor living. We firmly believe that you deserve to love every part of your home, including the lawn and landscape, and we are passionate about making this happen.
We have extensive experience in landscape design and, throughout our 15 years in the industry, we have created a variety of landscapes that fit virtually every possible style and space. You can rest assured that you are in the hands of highly-trained and enthusiastic professionals who are going to leverage their experience and expertise to provide superior results. As your partners in all aspects of landscape installation and design, we pay close attention to your needs and wants regarding your outdoor space.
Call us today to find out more about our landscaping services or to set up an appointment. Our team looks forward to assisting you with all of your landscape design and maintenance needs.