Lawn Maintenance
Lawn Mowing
Mowing the lawn can be a time-intensive process, especially if you have a large yard or if your lawn isn't perfectly flat. Our team of landscaping experts can mow any lawn quickly, and we know that you'll love the way it looks. Whether you need a one-time mow or regular service, we would love to help.
Lawn Fertilizing
Trying to revive a damaged yard is tough, unless you have expert yard care experts like the team at ASE Outdoor Solutions on your side. We know what kinds of yards respond best to different kinds of fertilizers, and our work will show results much more quickly than if you chose to use fertilizer from your favorite home improvement store.
Pet Waste Removal
While you love your animals, you probably don't love picking up all the little messes they leave all over your lawn. If you would rather have someone else take care of it for you, call us today! We can make quick work of waste, and we can help treat yellow or brown spots caused by animal urine.
Lawn Weeding
Weeds can quickly get out of control. If your lawn has gone from a field of green grass to a rough-looking patch, get in touch with us right away. We can pull all of the weeds that are creating an eyesore, and we can prevent them from coming back.
Lawn Seeding
Whether you have one or two sparse patches or a large percentage of your lawn needs to be thicker, our seeding services can have your grass back to its old look very quickly. Call us now for more information.
Lawn Aeration
If you have dense clay under your lawn or it has been compacted due to machinery or weather, aeration can help improve the movement of water and nutrients to ensure that your grass stays lush and green throughout the year.
---
Regular lawn maintenance is a vital part of ensuring your yard looks beautiful all year round. Though many think of lawn care as a spring or summer chore, maintenance must be performed throughout the year in order to ensure the lasting health and beauty of your lawn.
At ASE Outdoor Solutions, we have excelled in landscaping for more than 15 years and are highly dedicated to giving the Barberton area the next-level lawn care services they deserve. This is why we offer more than just summer lawn mowing. Whether it's spring, summer, fall, or winter, our team will work hard to meet all of your lawn maintenance needs and ensure your satisfaction with the services we provide.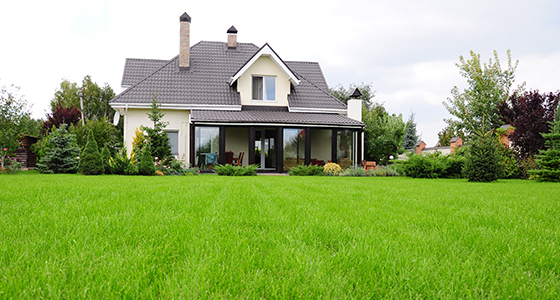 At ASE Outdoor Solutions, we currently offer the following:
Mowing
Fertilization
Trash and debris removal
Dog waste removal
Bed and pavement edge maintenance
Landscape bed maintenance
Weed removal
Aeration
Seeding
Let our talented and experienced lawn care team help you make your lawn the healthiest and most beautiful in the neighborhood. Reach out to us today for help with all of your lawn maintenance services. We look forward to showing you that you don't have to go to the other side to enjoy greener grass.